Feedback
Get choice incentives when you sell eligible Chorus business fibre plans.  

We believe that every Kiwi business should be on business fibre to ensure they can have the best productivity possible, with business-designed plans that make being online better - and staying online easier. These plans are made for business needs, and they are the business plans of choice.
CHOICE Bitstream 2
Small Business Fibre is the ideal entry-level fibre product for NZ's small-to-medium enterprise (SME) segment. With the importance of doing business online and the continued growth in digital business in our country, and around the world, excellent connectivity is a must-have for any New Zealand Business.
Hyperfibre Small Business has everything Small Business Fibre has, plus more oomph – with extreme bandwidth speeds of 2G, 4G, and/or 8G.
Recent business research findings shows that more than 69% of businesses agree fast restoration is very important to their business (Colmar Brunton, May 2020). Both Hyperfibre Small Business and Small Business Fibre include 'Business Restore' which gives businesses confidence that, should an outage occur to their service, it will be restored in the least possible time.  
And of course, Hyperfibre Small Business gives you everything that Small Business Fibre does, plus extreme bandwidth speeds (2G, 4G, and 8G).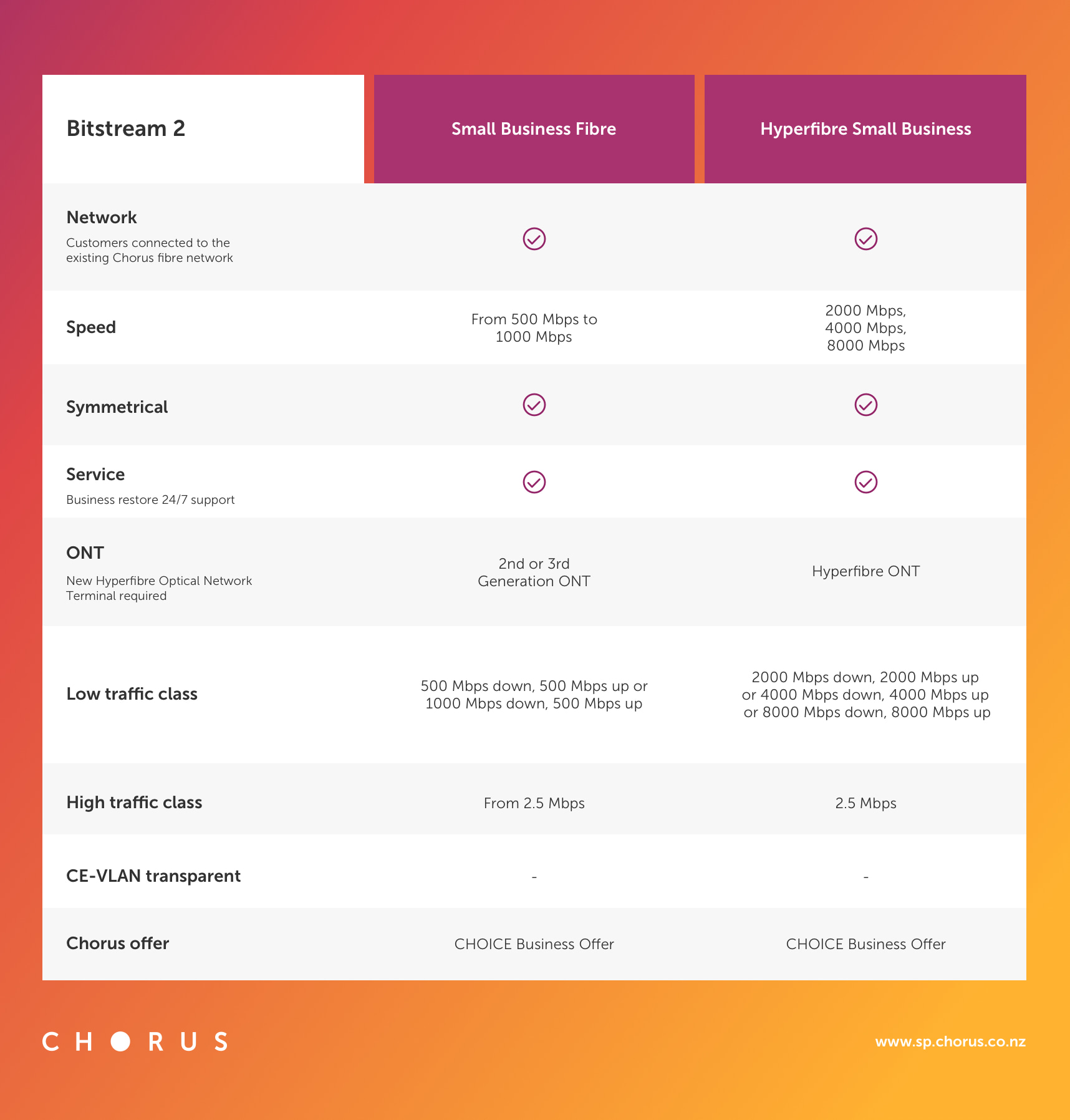 Valuable credits of up to $500 per connection can apply

 *SBF100 is now 500/500 since Dec 2021, with system name change to SBF500 likely towards the end of 2022
CHOICE Bitstream 3
Hyperfibre Business is ideal for NZ businesses and schools with 20 or more employees or specialised IT needs, as these plans come with 100Mb High Traffic Class (HTC) bandwidth as standard to support business critical applications such as cloud apps, VoIP, and video conferencing; along with VLAN transparency to enable network segmentation, reducing the need for costly routers, and enhancing security. These plans also include the Business Restore feature to ensure downtime is minimised.  And of course, Hyperfibre Business gives you the choice of high bandwidth speeds (2G, 4G, and 8G). 
As a part of the CHOICE Business Offer, we have strong incentives to support you in gaining new NGA Business or Hyperfibre Business connections, and upgrading existing NGA Evolve (Bitstream 2) plans to NGA Business or Hyperfibre Business. We also include upgrades from Education Max to Hyperfibre Business plans so NZ Schools can enjoy the Hyperfibre CHOICE.
You will receive a rewarding credit for each new eligible NGA Business or Hyperfibre Business sales connection ordered between 1 July 2022 and 31 December 2022 (and we intend to extend the sales eligibility period 30 June 2022 pending regulatory feedback, and connected within three months. 

In addition to the above credits, eligible HSNS Lite Copper connections that move to NGA Business or Hyperfibre Business may also benefit from our managed provisioning service for FREE. Should it fit your connection needs, our managed provisioning service can be offered - with costs waived (approximate value $330) – to provide project management expertise and oversight, minimising disruption in changing from HSNS Lite Copper to fibre (NGA Business or Hyperfibre Business).
CHOICE Bitstream 4
There is a generous incentive for NGA Business Premium Glass plans as well as offering a corporate-grade installation experience.
NGA Business Premium, powered by Enhanced Bitstream 4, is an ideal business-grade fibre plan for bigger businesses with more sophisticated connectivity needs. We're continuing the make it easy to connect, migrate, or upgrade to the Glass Variants of NGA Business Premium (10K variants launch 3 October 2022).
The Glass Variants of NGA Business Premium (Enhanced Bitstream 4) are ideal for large businesses, governmental organisations, and enterprises with critical connectivity requirements. These products represent the best-in-class for you and your customers; for whom the highest level of optimal fibre connectivity is essential and point-to-point fibre.
We've added new features to NGA Business Premium Glass, extended the reach to all UFB regions and made it easy for you to change from other fibre products. CHOICE offer supports you in growing your NGA Business Premium Glass connections.
And from 3 October 2022 we will have new 2G, 4G, and 10G variants available to order as well – which are included in this CHOICE offer in anticipation of launch. 

Credits apply only to New to NGA Business Premium Glass (there is no credit for moving between NGA Business Premium plans).
$1,000 installation credit: for all new NGA Business Premium Glass connections 2G or less, and $2,000 for 4G and 10G plans. This credit also applies to diverse NGA Business Premium Glass connections. If changing NGA Business Premium connections currently terminating to a Network Interface Device (NID) to NGA Business Premium Glass, the standard installation charge is waived, (rather than the $1,000 or $2,000 credit).
Free Managed Provisioning: Connecting your enterprise customers is more than just a new installation request, it's a project. The CHOICE offer continues the inclusion of FREE Managed Provisioning Services, providing project management and coordination with every new NGA Business Premium order. Just provide us with the details and your requirements, and we'll do the rest for you, including order entry - approximately $330 in value.
Free 24/7 hot cutover: Installing NGA Business Premium in parallel to the existing fibre circuit can require special attention, particularly when there are no spare fibres available. Hot cutovers enable us to re-use the existing fibre and quickly switch over to the new product during an agreed 2-hour outage window, minimising any disruption and risk. Many (if not all) customers will want to schedule the outage window outside business hours, so the CHOICE offer includes after-hours hot cutover free of charge for NGA Business Premium, should you choose to utilise this service - approximately $330 in value.
If you've made the CHOICE choice, here is the next step to benefit from this offer:
To be eligible for the Chorus CHOICE Business offer, please countersign the offer letter (below) before 30 June 2022 and send this to your Chorus Account Lead.
Hyperfibre ONT fee incentive credit 
Don't forget – the Hyperfibre Business credits and Hyperfibre Small Business credits can also be used with the Hyperfibre ONT Upgrade offer which waives the ONT upgrade fee between 01 April and 30 June 2022 - a total discount of $399, plus any Business ADVANTAGE credits.
Got questions?
Don't hesitate to contact your Chorus account lead.
Highlights
Lucrative credits available for eligible Business Fibre plans

CHOICE credits for BS2 (up to $500)

CHOICE credits for BS3 (up to $800)

CHOICE credits BS4 (up to $2,000)
Related documents