Feedback
Better connectivity benefits for businesses on Bitstream 3/3a

NGA Business and Hyperfibre Business connections are ideal for NZ businesses with 20 or more employees, and organisations who are aiming for more precision and capability with their fibre connectivity.
Both come with High Traffic Class (HTC) bandwidth scalable to 100Mb to support business critical applications such as cloud apps, VoIP, and video conferencing; along with VLAN transparency to enable network segmentation, reducing the need for costly routers, and enhancing security. These plans also include the Business Restore feature to ensure downtime is minimised. 
Plus, Hyperfibre Business gives you everything that NGA Business does, plus extreme bandwidth speeds (2K, 4K, and 8K).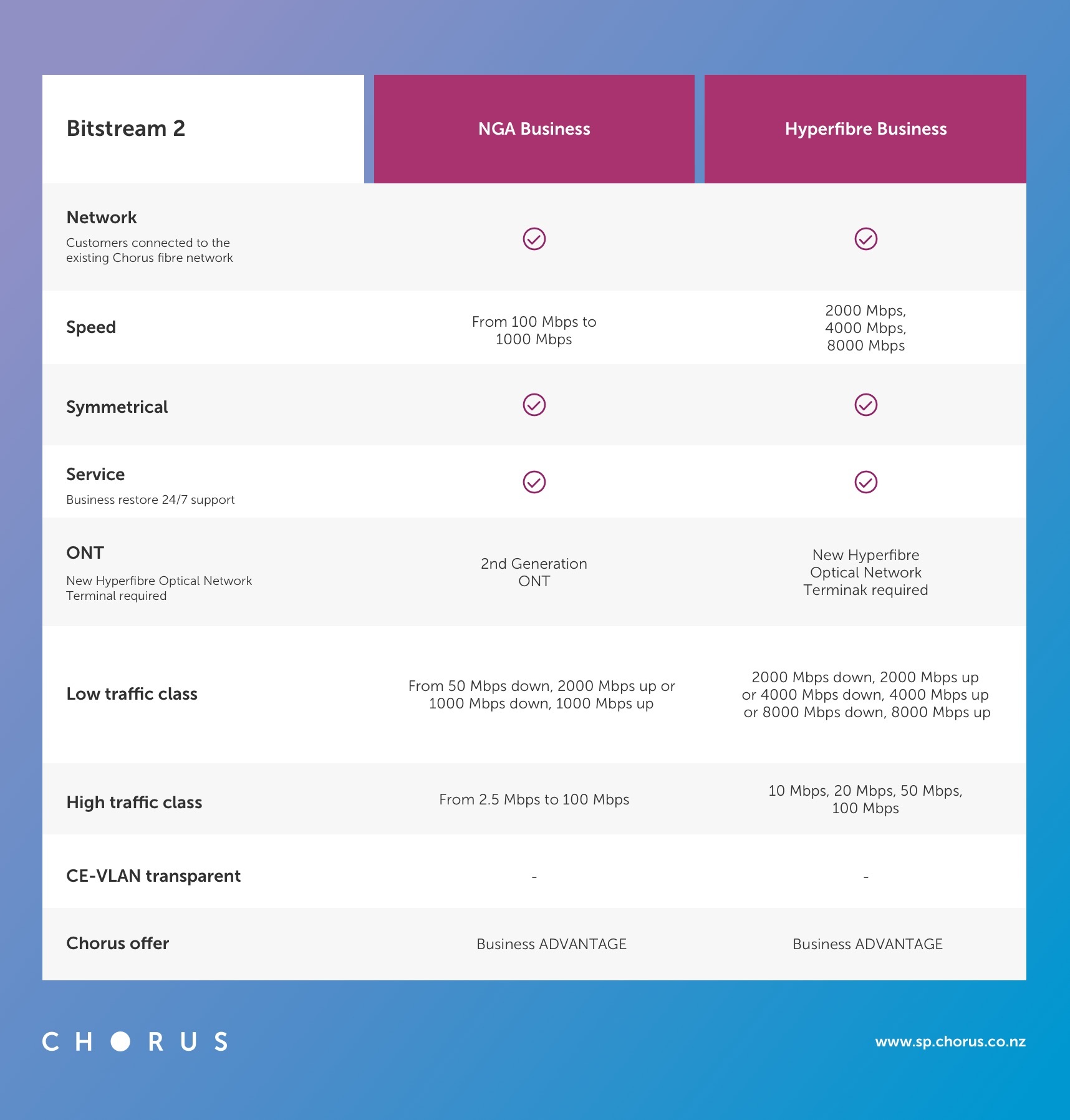 Introducing Business ADVANTAGE 
Business ADVANTAGE is launching on 1 July 2021 to support you in acquiring new NGA Business or Hyperfibre Business connections, and upgrading existing NGA Evolve (Bitstream 2) plans to NGA Business or Hyperfibre Business.
You will receive a rewarding credit for each new eligible NGA Business or Hyperfibre Business sales connection ordered between 1 July 2021 and 30 June 2022 (and connected by 30 September 2022). 
This can allow you to move your customers to the best business fibre connection… to your mutual ADVANTAGE!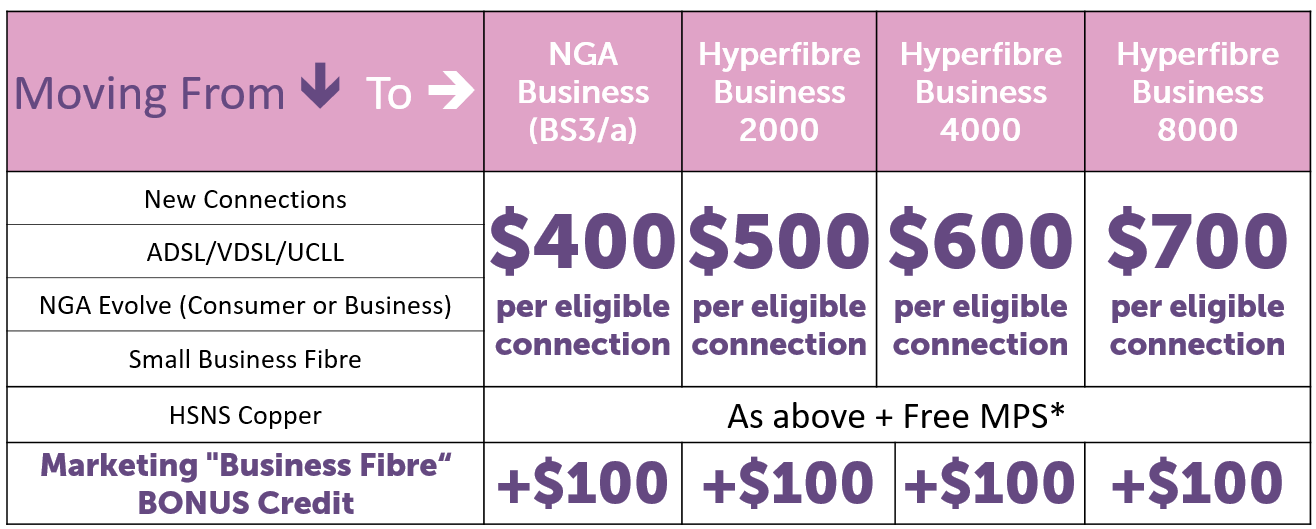 Managing Provisioning Service 
In addition to the above credits, eligible HSNS Lite Copper connections that move to NGA Business or Hyperfibre Business may also benefit from our managed provisioning service for FREE.
Should it fit your connection needs, our managed provisioning service can be offered - with costs waived (approximate value $330) – to provide project management expertise and oversight, minimising disruption in changing from HSNS Lite Copper to fibre (NGA Business or Hyperfibre Business).
Get extra credits – with the Business Fibre Marketing BONUS credit offer
We want to reward you for sharing the Business Fibre and Hyperfibre story to the Kiwi organisations. Submit a Business Fibre and/or Hyperfibre Business marketing plan to be eligible for an additional $100 per eligible BS3/a connection during the period of marketing activity - and the three months afterwards too!
On top of your ADVANTAGE credits you could earn an additional:
$100 for NGA Business 

$100 for Hyperfibre Business 
It's easy to earn the Business Fibre Marketing BONUS credit with Chorus. Head over to our  BONUS credit offer page  to learn more.
Hyperfibre ONT credit 
Don't forget – the Hyperfibre Business credits can also be used with the special Hyperfibre ONT credit which is continuing until 31 December 2021 – that's extra $200 off the ONT installation of $399, plus any Business ADVANTAGE credits.
That could add up to as much as $1,000 for a Hyperfibre Business 8000 connection with the Business Fibre Marketing BONUS credit ordered before the end of 2021.
Next steps to benefit from this offer
To be eligible for Business ADVANTAGE credits, please countersign the Offer Letter (see below) before 30 June 2021 and send this to your Chorus Account Lead.
Got questions?
Don't hesitate to contact your Chorus Account Lead.
Highlights
Up to $700 credit

$100 Business Fibre Marketing BONUS credit

Better plan, better credits, better revenue
Related documents