Feedback
Overview
Managed Provisioning gives you access to our project management and coordination expertise. To ensure you that your infrastructure projects are successfully completed - on time, within budget and to meet specifications.
Our managed services and project management offerings are a result of over seven years of experience building, managing our fibre network nationwide and successfully delivering hundreds of projects across various industries including the public sector. From educational institutes (N4L) to Smart Locations and cell sites on wheels, Chorus has a proven track record implementing large scale broadband projects nationwide.
Our highly qualified project team and sector experts deliver overall project management and coordination services, defining plans, design, implementation and operational phases of your projects. They ensure your solutions are deployed in accordance with your business plan and rollout schedule while using proven methodologies and procedures.
Let us partner with you to successfully deliver your projects, save money and valuable resources, while minimising the impact and risk for you and your end customers.
Key benefits
On-time deployment of your most complex projects
Minimising overall costs and reduced risks through the provision of a guaranteed implementation
Increased value and boost customer experience
Get real-time insights via our cloud-based project management tool.
Access to technical expertise / sector and product SME's
Single point of contact that helps ensure timely delivery within scope and on budget
Progress reporting identification and escalation of risks and issues.
Clearly defined change management process
Comprehensive project scope document, feasibility studies, due-diligence processes, technical deliveries and testing requirements.
Services
Managed Provisioning Service (MPS)
Our end-to-end managed provisioning services provide you with the technical support and national resources needed to quickly and cost effectively deploy and support fully customised solutions that meet your specific requirements.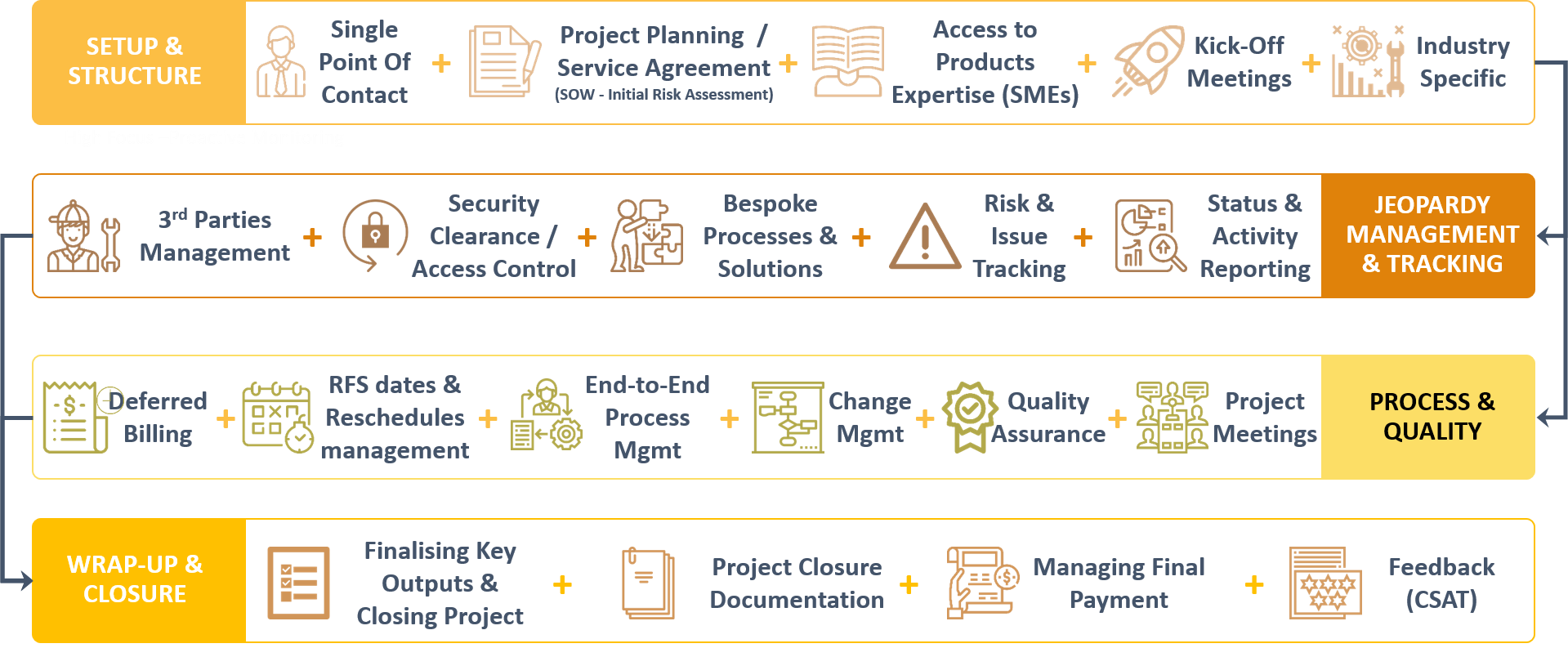 Basic Order Coordination (BOC)
Our business service wrap introduces basic coordination, as a value add to the existing BAU provisioning process.

Smartsheet
Smartsheet is our project management & collaboration tool, it's cloud-based and free for our customers. It's only eligible for projects under the managed provisioning wrap. 
You can access it using your business email address where you will get notified to create a password the first time around. You will also receive an email from Smartsheet to join the Chorus account to be able to view all projects managed by our team. More information on our user guide.