Feedback
Helping you grow your business customer base

We believe that every Kiwi business should be on business-grade fibre to ensure they can minimise any possible losses from not being able to do business effectively online.
Small Business Fibre is the ideal entry-level fibre product for NZ's small-to-medium enterprise (SME) segment. With the massive growth in digital business in our country, and around the world, connectivity needs to be of a high quality.
Recent business research findings shows that more than 69% of businesses agree fast restoration is very important to their business (Colmar Brunton, May 2020). Both Hyperfibre Small Business and Small Business Fibre include 'Business Restore' which gives businesses confidence that, should an outage occur to their service, it will be restored in the least possible time.  
And remember, Hyperfibre Small Business gives you everything that Small Business Fibre does, plus extreme bandwidth speeds (2K, 4K, and 8K).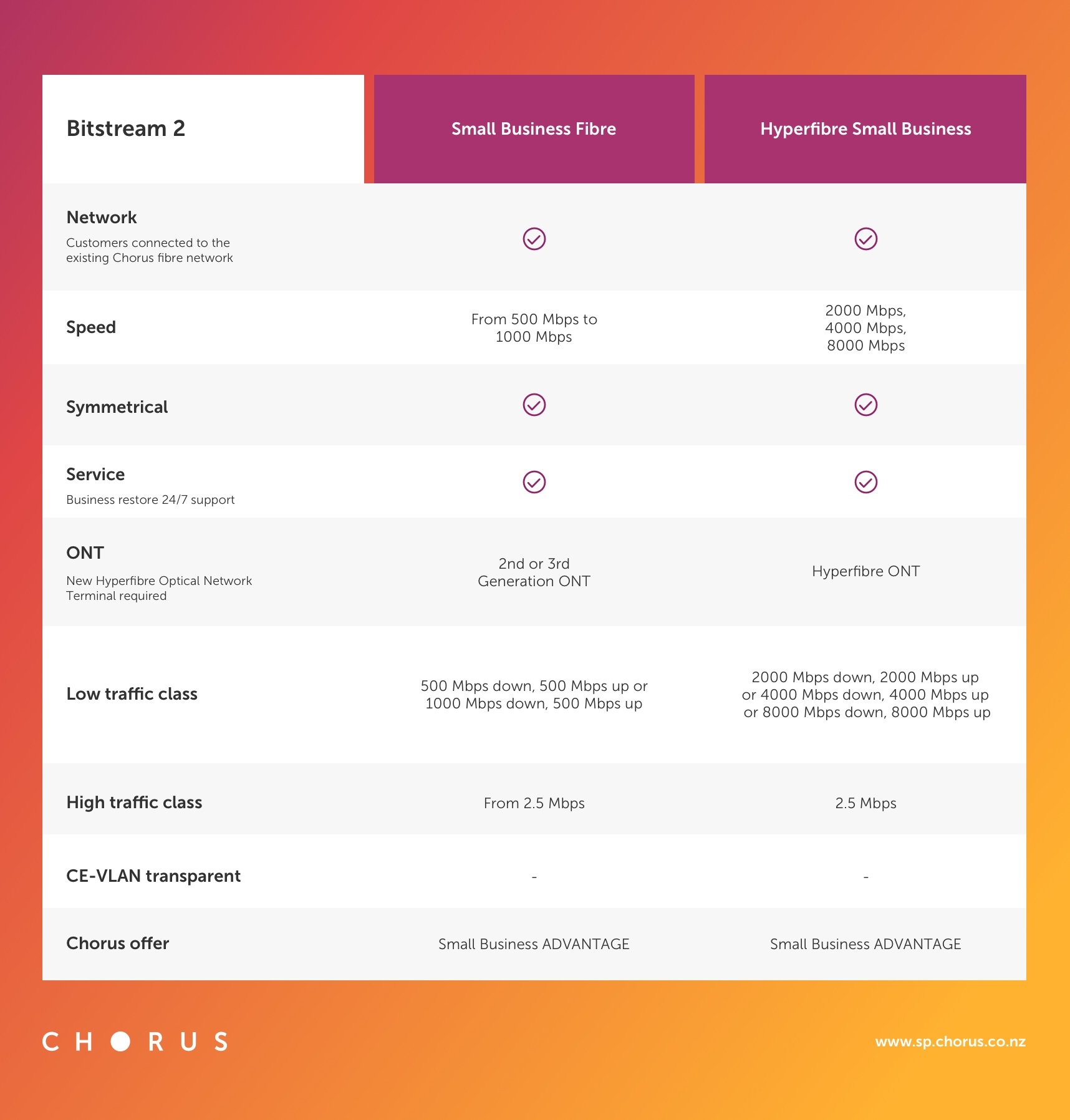 Introducing Small Business ADVANTAGE 
From 1 July 2021, Small Business ADVANTAGE will support you in acquiring new 1Gbps Fibre and even faster Hyperfibre connections, in addition to upgrading your existing NGA Evolve (Bitstream 2) connections to Small Business Fibre and Hyperfibre Small Business.
Lucrative credits up to $600 per connection can apply

Get extra credits – with the Business Fibre Marketing BONUS credit offer
We want to reward you for sharing the Business Fibre and Hyperfibre story to your customers. Submit a Business Fibre or Hyperfibre Small Business marketing plan to be eligible for an additional credit per eligible connection during the period of marketing activity - and the three months afterwards too!
On top of your ADVANTAGE credits you could earn an additional:
$50 for Business Fibre Max plans
$100 for Hyperfibre Small Business plans
It's easy to earn the Business Fibre Marketing BONUS credit with Chorus. Head over to our BONUS credit offer page to learn more.
Hyperfibre ONT credit 
Don't forget – the Hyperfibre Small Business credits can also be used with the special Hyperfibre ONT credit  which is continuing until 31 December 2021 – that's an extra $200 off the ONT installation of $399, in addition to any ADVANTAGE credits! That could add up to as much as $800 total for a Hyperfibre Small Business 8000 connection with the Business Fibre Marketing BONUS credit ordered before the end of 2021.
Next steps to benefit from this offer
To be eligible for Small Business ADVANTAGE credits, please countersign the Offer Letter (below) before 30 June 2021 and send this to your Chorus Account Lead.
Got questions? 
Don't hesitate to contact your Chorus Account Lead.
Highlights
Up to $600 credit (including business fibre marketing bonus credit)
Related documents