Feedback
Business fibre. It's how we internet now. 
We're taking our successful 'Fibre is how we internet now' campaign to a business audience with the launch of our new campaign targeting kiwi SMEs. The campaign, which launched last week and runs through until June 2022, aims to position business fibre as the broadband technology for New Zealand businesses and the champion of productivity, driving plan upgrades to Small Business Fibre. 
Creative messaging 
The new campaign highlights some of the productivity benefits of a fast, reliable business fibre connection, including being able to upload large documents easily, dropping fewer video conference calls, and consistent connectivity to the cloud. While badnet is bad for business. 
A consistent call to action across the campaign encourages small businesses to 'ask' their provider for business fibre. 'It's how we internet now.'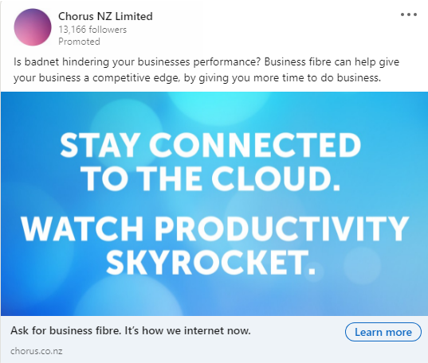 A new media partnership and channel mix 
We've partnered with NZME to deliver an integrated campaign across multiple NZME brands and platforms. We're also running an always-on advertising layer outside of the NZME stable across digital display including remarketing, LinkedIn and Search. The base campaign creative will be supported by a range of content delivered via Chorus channels and other content partnerships. 
We hope you will look to leverage our campaign by aligning your business fibre retail campaigns with our activity. An overview of the campaign including a detailed media schedule can be found in the resources section below.
Maximise your Small Business ADVANTAGE credits 
A reminder that our Small Business ADVANTAGE Offer will support you in acquiring new 1Gbps fibre and even faster Hyperfibre connections, in addition to upgrading your existing NGA Evolve (Bitstream 2) connections to Small Business Fibre and Hyperfibre Small Business. Credits up to $600 per eligible connection are available for each eligible connection, plus get up to $100 in extra credits per eligible connection with our Business Marketing Credit offer. Find out more >  
Contact  
If you have any questions, please contact Tessa Kaio, Marketing Lead B2B, or Jeremy Lane, Business Products Proposition Manager, or reach out to your Chorus account team.