Feedback
Work with us to promote better broadband options to your customers.
We want all New Zealanders to have the best possible broadband experience. That's why we are so focused on encouraging those 85% of Kiwi's who have a better broadband option available to them to take up the opportunity. We'll be continuing this offer until 30 June 2020.  Please note we have introduced a bonus credit from 1 April 2020, further details are below and in the related documents section.
Credits focus on two key areas:
Connect to 100M or above: migrating offnet customers and customers on existing copper and lower speed fibre connections on our network to selected fibre speed connections; and
Get to the Gig: as above and upgrading existing fibre connections to our fastest fibre plan.
To be eligible for incentives under this offer, you will need to meet eligibility thresholds. The level of credit contribution payable varies depending on which eligibility threshold has been met. 
We will monitor your mix of orders received within a quarter of the Offer period to determine what credits will apply. You'll be required to meet these thresholds to qualify for credits:
At least 75% of your orders on 10M or above to be eligible for the 'Connect to 100M or above' incentive; and/or
At least 15% of your Gig orders to be eligible for a 'Get to the Gig' incentive.
The eligibility thresholds and credit contributions for the offer are set out below:
Regardless of whether you hit the above thresholds for the Fibre 100m+ target or not there are additional credits on offer for those who reach our Gig order mix thresholds:

 Bonus Credits on Mix It Up
From 1 April to 30 June 2020 we'll introduce a bonus credit, where you can earn up to $250 credit, that will apply to the Connect to 100M+ initiative.  This credit will be additional to what you would receive today in the current offer if the threshold is met.  To support you, so you know which addresses to target, we will provide a list of eligible addresses by 15 March 2020 and will update that list with new any new addresses on the first calendar week of each month during the offer.  Some high-level details are included in the table below, please refer to related documents offer letter for the full terms and conditions.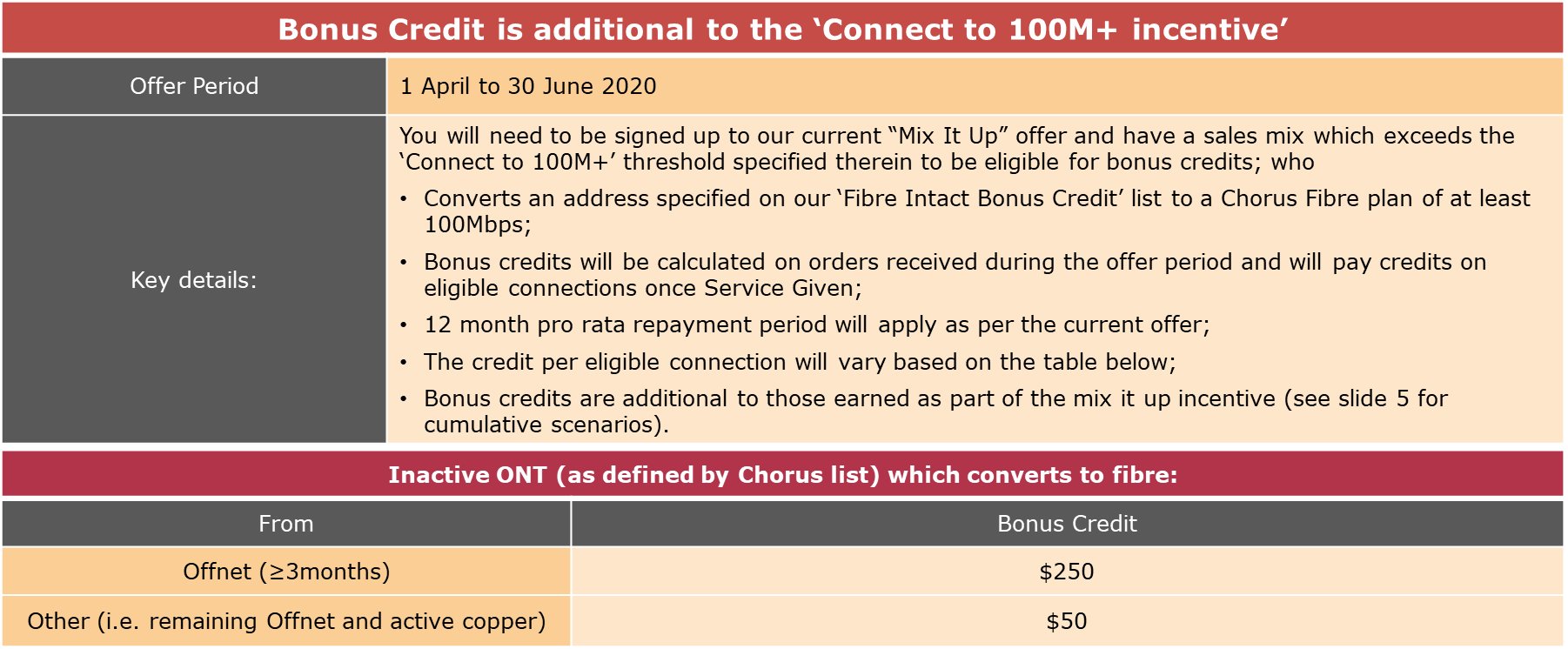 Note: A new connect Consumer/SME Max order can be eligible for both incentives if both thresholds are reached.
If you have not yet signed up to this offer and would like to participate you have until 31 March 2020.  Please contact your Account Manager for any queries.
Highlights
Migrate off-net customers

Upgrade existing fibre connections to our fastest fibre plan

Extended until 30 June 2020
Related documents