Feedback
NGA national tail extension (TES) service coming in March 2020
NGA National Tail Extension service is the most cost-effective way to extend your NGA coverage nationwide, with as little as one UFB handover connection.
Launching in March 2020 our NGA national tail extension service enables you to expand your business nationwide quickly – expanding into areas where you might not already have a presence or reduce operating costs by closing down underutilised Points of Presence (PoP).  We will aggregate your UFB Bitstream services from multiple UFB coverage areas on a single UFB handover connection.  Currently, without TES you must have a UFB handover connection at 27 points of interconnection to provide service nationally. With NGA Tail Extension you can do it with one.
Expand into new coverage areas with no requirement to purchase additional handovers or set up costly infrastructure, even servicing those smaller more remote areas
Reduce operating cost by reducing transport services between UFB candidate areas as you can map all your NGA services to a single handover anywhere in New Zealand
Simplifying your pricing structure with charges per subscriber, 3 easy price steps: regional, national same island and national different island
What's happening
In November, we asked for your feedback on the NGA national TES extension service and associated pricing.  Thank you for your responses, which we have grouped into the following themes;
NGA Business Premium (Enhanced Bitstream 4) will now be included
Confirming that you can have multiple handovers designated on National TES
Following changes to the Regional TES prices from March 2020, a separate communication and confirmation of the changes will come out closer to the time.
We are confirming the pricing structure as detailed below for NGA Evolve (Bitstream 2) / NGA Business (Bitstream 3) / Voice pricing
| | | | |
| --- | --- | --- | --- |
| Tail Extension Step | A - Regional | B – National | C – National |
|   |   | (Same Island) | (Different Island) |
| Low traffic class | $1.89 | $2.84 | $4.25 |
| High traffic class – (per Mbps)* | $0.36 | $0.84 | $1.68 |
*Maximum upstream/downstream bandwidth; for primary NGA Evolve Bitstream 2 plans the first 2.5 Mbps High Traffic bandwidth is $0.
NGA Business Premium (Enhanced Bitstream 4) Pricing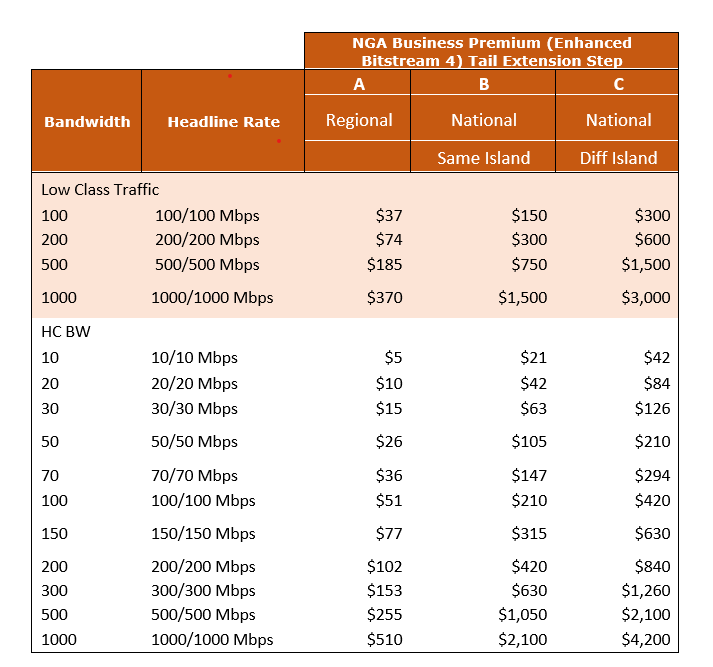 Non-recurring charge for changing from standard to national handover
There will be a charge to service provider for changing from a standard UFB handover connection to a National UFB handover connection (and vice versa). The charge will be:
| | |
| --- | --- |
| Change of UFB handover type – per circuit | $23.62 |
Supporting documentation
NGA Tail Extension Service can be requested in the Chorus Portal by selecting the desired Standard or National UFB Handover connection service as part of the 'Add, Modify, Transfer or Move' service request as specified in the NGA National Tail Extension Service Description. 
It will be available for any additional service templates requested by the service provider using combinations of one more standard building blocks, as defined in the relevant Bitstream Service Description.
Next steps & contact
The new product will be launched on Monday 16 March 2020.  
Please note that as per the previous update, changes to the B2B and Chorus Portal to accommodate this are on track to be completed in February 2020.
For any further queries please talk to your Service Delivery Manager.