Feedback
Overview
The Smart Locations portal delivers a single digital interface for our retail service providers to request and manage their Smart Locations.
Chorus is supporting the growth of new technologies by providing the fibre connectivity required for New Zealand's smart cities. From traffic-monitoring CCTV cameras to digital billboard messages, smart city infrastructure is a key part of our urban environments. Chorus will make smart locations work for you. We provide customised solutions to bespoke locations, backed by our fast, reliable, world-class fibre network. Chorus has connectivity solutions to bring smart cities to life, stepping beyond the home and office fibre footprint.
More about the Smart Locations portal 
We have introduced a fit for purpose portal to allow you to enter all the required Smart Location information to prevent wasted time and rework from missing data.
We have also changed the back-end process so that when we receive your request through the Smart Locations portal, we can more efficiently provide pricing. This will allow you make a quicker decision with 
your customer to get financial approval to proceed with Smart Location build.
The Smart Location portal allows you to see all your Smart Location requests in one place, which will make the management of the Smart Location process more efficient with your customers and provide an improved customer experience
Online learning
To get you up and running quickly, check our interactive videos. You'll also have access to a more detailed user guide. Explore to following resources and start your online learning today:
You can also check our user guide for more details on how to use the tool. 
Finding help
User centric, the new Smart Locations portal is simple and easy to use.
If you have any issues with this site, then Chorus will be offering issue resolution through our Chorus provisioning support channel 24x7 by calling 0800 ITCHORUS (0800 48246787) + Option 2.
For terms and conditions of use for the Smart Locations portal please click here.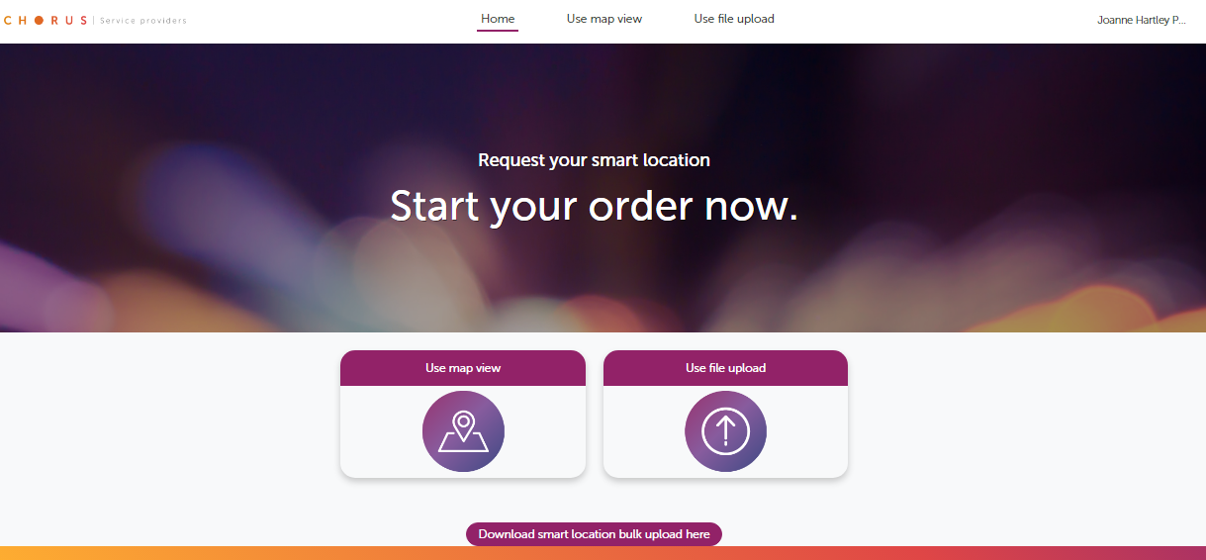 Login
Existing Chorus customers, please log in below to access our Smart Locations Ordering tool.
Login
Highlights
Ability to enter single orders, a few at a time and orders in bulk

Embedded tender process for 20+ sites

Easier to get a Smart Location address