Feedback
We're launching our new Enterprise Connect Offer on 1 March 2019 – sign up now!
Our Enterprise Connect Offer is designed to support you to promote high performing fibre services to businesses and in particular, encourage the migration of off-net customers onto our fibre network; and the upgrade of existing fibre connections to faster business fibre plans.
To help achieve these goals, this offer supports you by providing credits for focusing on three key areas:
Driving new connections on NGA Business and NGA Business Premium; and
Upgrading existing NGA Evolve (Bitstream 2/Bitstream 2 Accelerate) fibre connections to NGA Business or NGA Business Premium or existing NGA Business to higher NGA Business CIR plans; and
Upgrades from NGA Business to NGA Business Premium.
Key terms of the Enterprise Connect Offer
The Enterprise Connect Offer:
Provides credit contributions of between $150 & $300 per qualifying connection
Offer available where Chorus has Fibre
Is available for you to sign up from 4-28 February 2019
Enterprise Business Offer for NGA Business qualifying connections will start on 1 April 2019 (i.e. after the expiry of the current Chorus Connect Offer)
NGA Business Premium (Enhanced Bitstream 4) is currently offered under a commercial trial basis.  To be eligible for this part of the incentive, Service Providers must first agree to the Commercial Trial agreement.  Date of the full launch of NGA Business Premium (Enhanced Bitstream 4) will be finalised at a later date
Is further supported on eligible NGA Business Premium plans with a discounted managed provisioning service.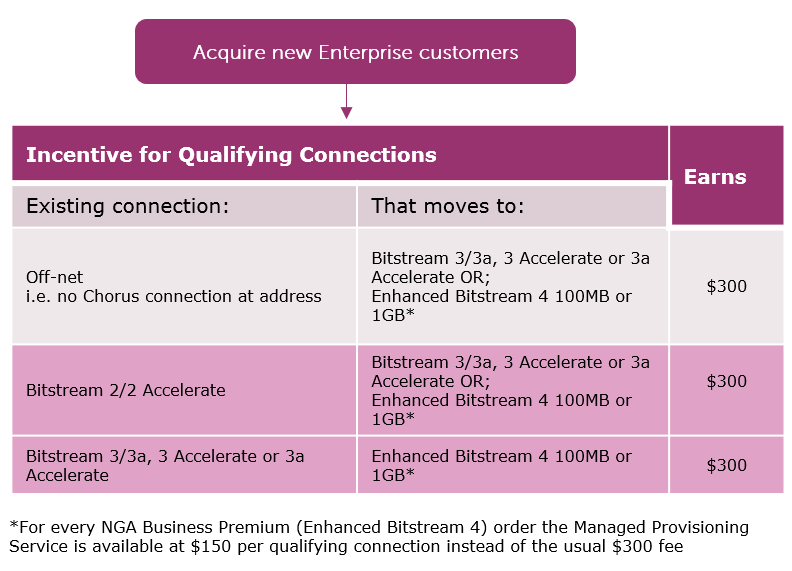 Further conditions of the offer
RSPs can sign from customer update until 28 Feb 2019
Offer available where Chorus has Fibre
Orders received within the offer period will be eligible but paid on service given
To continue to qualify for the credit contribution a connection must remain on the relevant plan for a minimum of 12 months. This also applies to NGA Business Premium (Enhanced Bitstream 4) trial connections following the conclusion of the commercial trial
If a RSP receiving a credit contribution relinquishes the service covered by the credit contribution within the 12 month qualifying period the service provider will be subject to a repayment obligation on a pro rata basis.
What's excluded?
Any orders placed on Smart Location addresses
Gigatown plans
Secondary plans
Education plans
Any address where there is a current business legacy service (UPC, LDBS, BFAS) or HSNS Premium/Bitstream 4 service on the Chorus network.
Next steps 
To sign up for our new offer, please sign and return the offer letter to your Account Manager by 28 February 2019. 
Should you have any questions please contact your Account team.