Feedback
Update number: 08092020bis
Customers connect with Chorus cards
Since July 2019 we have been testing a broadband demand 'lever' to promote  fibre with a direct incentive to consumers and we plan to do more. This involves a prepaid MasterCard offer to households not connected to our network where fibre or VDSL is available.
What's happening
Some variables that we have tested have shown encouraging results and we would like to run another campaign from 11 September to 6 December 2020. In this we will be testing two types of direct mail, a postcard where the offer is visible vs our current standard letter form.  The offer will be made available to households where fibre is available (install required) and VDSL in RONZ areas.
What's the detail
A selected group of addresses have been chosen at random to participate in this campaign. These addresses are all currently not active on our network (offnet) and either have fibre available (with no ONT installed) or VDSL >20Mbps in our RONZ area.
To be eligible for the credit a recipient of our letter will need to:
Be the householder and broadband account holder at that address;
Register on our website; and
Place an order with their preferred Broadband Provider, connecting to Chorus fibre or VDSL (as specified on the offer) by 6 December 2020.
Chorus will then load the relevant $ amount to the card once the address connects to Chorus fibre or VDSL broadband.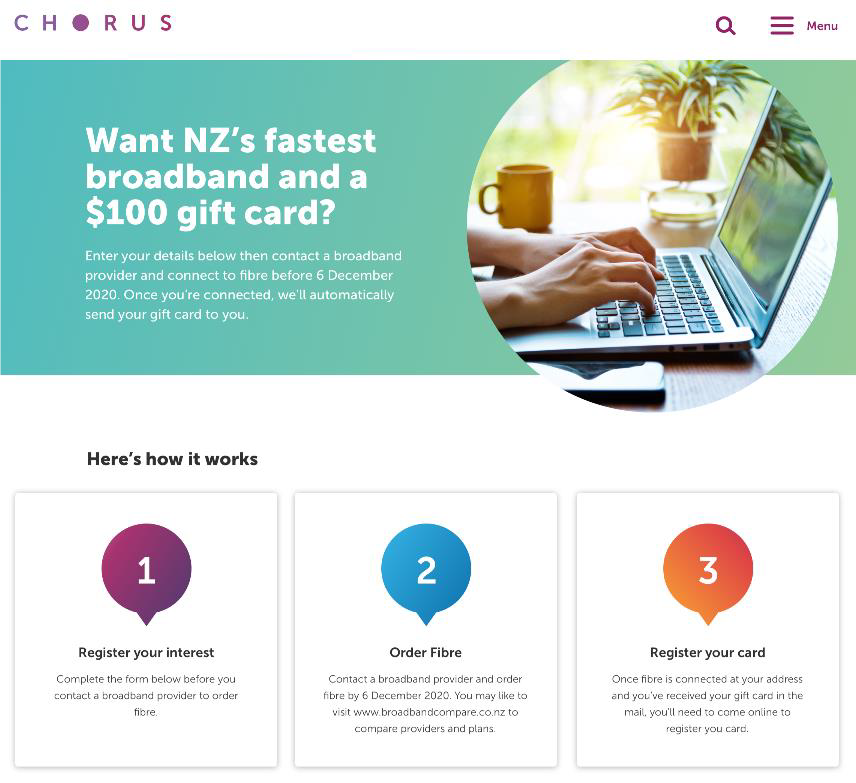 Next steps
While we have been running these consumer incentives over the past year, we would like to remind you that that if your frontline staff receive any direct queries about this initiative, you can direct those queries to cards@chorus.co.nz or our website www.chorus.co.nz/fibre-reward or www.chorus.co.nz/vdsl-reward where people can find out more about this campaign. You'll find a pack detailing the upcoming campaign (see resources).
Contact
For any queries regarding the campaign please contact your Account Team.