Feedback
Assure Channels – Portal and API customer experience improvements
Overview 
As part of the Assurance Channels project we are continuously improving the customer user experience.  It was noted  that when underlying Chorus systems (FSOM) becomes unavailable the system does not allow faults to be submitted via the Assurance API. A change is being delivered in our Assurance Channel to address this. 
Update: With the completion of testing, we can confirm this change will be going into production on the night of the 23 September.  There is no outage required for this deployment and no action required by RSPs.  The team will be closely monitoring tickets post go live to ensure they are coming through normally.
What's happening?
A fix has been put in place within the Assurance API to ensure fault submission is still possible.
We are also making you aware of changes in the Assure Portal during these outages. You will still be able to log a fault but there will be limitations on what you can see during this time. 
The details
Impact to Fibre products
For fibre products the Assurance API/Portal will not display information which is associated to the connected ONT and diagnostics for the ONT status will also fail.

For those that use the Assurance API/Portal you will still be able to log a fault under the next step tile by selecting the relevant fault type.  It will be helpful to Chorus if you select the correct fault type to ensure accurate troubleshooting.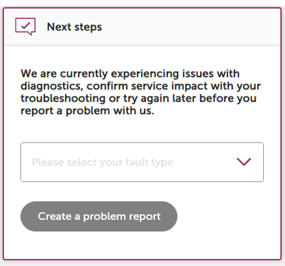 Impact to Copper Products
For copper products the only recognised impact is the exclusion of CVID and SVID detail. There will be no impact to the copper line test diagnostic results.
Next steps
The Chorus Assure Channels project team are in contact with our customers that utilise the Assure API to ensure that there is no impact to your systems. In order to do this we would require you to execute your regression suite of scenarios within the integrated preproduction environment. Data for this environment will be provided by Chorus.
Contact
For any queries please contact Assure Channels Project.  
Kughan.lingham@chorus.co.nz – Project Manger 
Raj.natalia@chorus.co.nz – Test Lead 
Kellie.cowper@chorus.co.nz – Change Manager