Connecting businesses to the cloud - is your fibre fast enough?
Chorus hosted two After5 events with TUANZ at the beginning of June. During these events we talked about how Chorus is enabling businesses to connect to the cloud. Carina Willis, from our Market & Insights team shared with us insights about kiwi businesses and digital transformation. You can now read her story...
Fibre is transforming the way people live and work
1.5m Kiwi households and businesses can now connect to the ultra-fast fibre network. But let's go back to the start. Before fibre. Back in 2011 there was no Uber. There was no Netflix. There was no Dominos pizza tracking App. There was no demand for connectivity that there is now.
We have seen a huge amount of change in both the consumer and business landscape over the past eight years. Consumers have embraced fibre. They didn't need convincing. The desire for fibre was there. The launch of subscription TV like Netflix and TVNZ on demand have driven increasing demand and usage. This will only continue with activities like streaming sports kicking off with the launch of big sport competition online later this year.
"As of today, we see a solid 55% uptake rate for consumers and in some places throughout NZ this is much higher. Over half of all kiwis have chosen fibre. But this is not the case with businesses. Only 33% of businesses that have fibre available have taken up fibre."
We know this isn't because the business landscape hasn't changed – there is not a lack of need or requirement. Our research last year at Chorus showed there is a massive need for connectivity in business with reliance on the network increasing. Over half of all businesses agree that technology and connectivity is important in driving success. Only 5% disagree. The rest sit on the fence.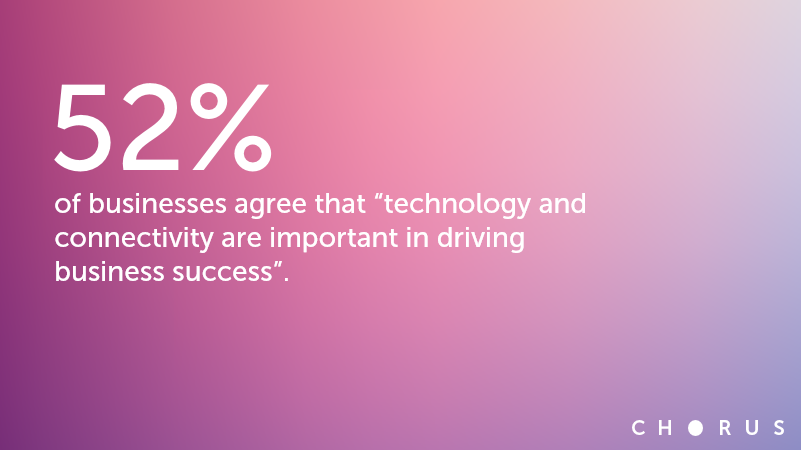 But that is pretty overwhelming. We found that the reliability of the connection is the strongest driver of overall customer satisfaction, with businesses, on average, only operating for 4.5 hours without the internet. 1 in 5 said they would need restoration within an hour to keep operating. If businesses were to lose connection to the internet, the biggest impact would be to the basic operating function, nothing fancy but basic operating function, followed by productivity and then their customer's satisfaction.
We continue to see rise in connectivity demand in business - a third of all companies think their bandwidth requirements will increase over the next year. We know businesses are moving to the cloud, the cloud conversation has evolved from "whether or not cloud" to "how many clouds" with IDC saying 66% of enterprises see cloud technology as a tool for competitive advantage. However many companies are saying their traditional network systems won't be able to satisfy their requirements.
Business needs are changing and traditional networks are under pressure to deliver
Geographical boundaries and limitations are being tested with the rise in video conferencing, flexible working practices with people using their home as their second office, many essential systems are being sent to the cloud.
At Chorus we have recently purchased an online surveying tool, whose head office is based in Sydney. For the past four weeks we have been having project meetings and training sessions using Zoom for screen sharing and Skype for voice. This work practice is becoming standard. Every time we found that as soon as we started sharing screens, we lost the voice connection. The need is here for better business connectivity.  The need for fibre is here.
This might be controversial, as someone that works for Chorus, but just having fibre itself might not be enough. We have a 1Gig connection into the Chorus office that is getting shared to all my colleagues and is not enough for our new ways of working.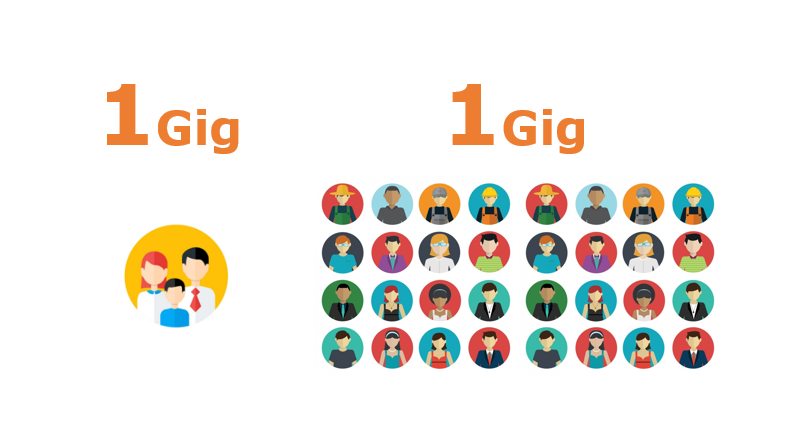 DXC technology recently released a report that says New Zealand business have less than two years to adopt digital before disruption hits, saying there is an urgency for digital transformation in NZ with 4 in 10 organisations fearful that their enterprises may be materially disrupted.
Digital transformation
What does it actually mean? Change. Continued change. It covers a multitude of things. Digital strategy, working towards a more mobile workforce, machine learning, automation, further use of the cloud underpinned by a change culture. It might mean any of these but one thing is clear, it requires us to think a bit smarter about our infrastructure and network system and what we need to excel in the future.
New opportunities are emerging in the business space that are impacting New Zealand's business ecosystem – driving digital transformation, flexibility of work practices and new business models.