Future products
17.01.2019
3rd Generation ONT: phase 1 rollout to start in March
As announced during our last industry webcast and discussed at Product Forum since early 2018, we will be launching the 3rd Generation ONT with a phased rollout starting in March 2019. The 3rd Generation ONT is based on Nokia G-140W-C technology for new Bitstream 2 fibre connections.
The current model (2nd Generation) will continue to be used for all orders for Bitstream 3/3a and those Bitstream 2 orders with a requirement for a 2nd ATA port or ingress policer.
This new model is used by some of the world's largest service providers, and will ensure that we have support and parts available well in to the future.
What's changing
The new generation of ONT has some additional software and hardware capability to support possible future innovations. These include Wi-Fi, virtual residential gateway (RGW) and USB functions. Please note that these features will not be enabled or available for phase one rollout. We will separately consult with you on potential Wi-Fi and virtual RGW functions.
If you use the ATA port you will need to make minor changes to the TR-69 script you use to control ATA port (additional lines to detect new ONT type).
End-customers will have ability to turn off the status lights on the ONT in situations where the lights are distracting. The power on indicator will remain on.
The premises internal copper wiring termination point will be integrated in the ONT mount providing a tidier installation.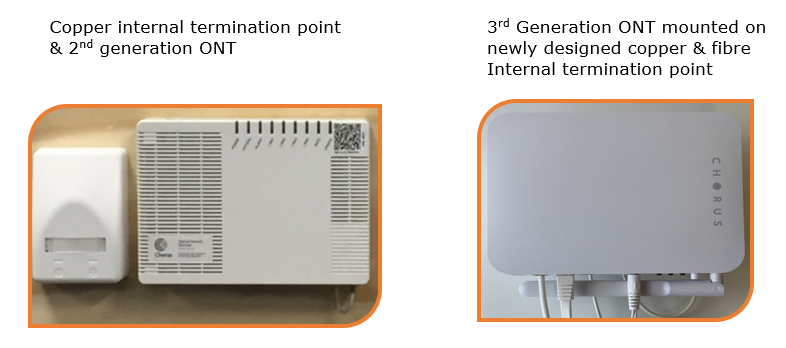 Next steps
We'll organise a briefing for all retail service providers by conference call on 31 January. You'll find out more about 3rd Generation ONT and its deployment schedule.
For all other queries please contact your service delivery manager.