Feedback
New service provider website launch confirmed for 13 May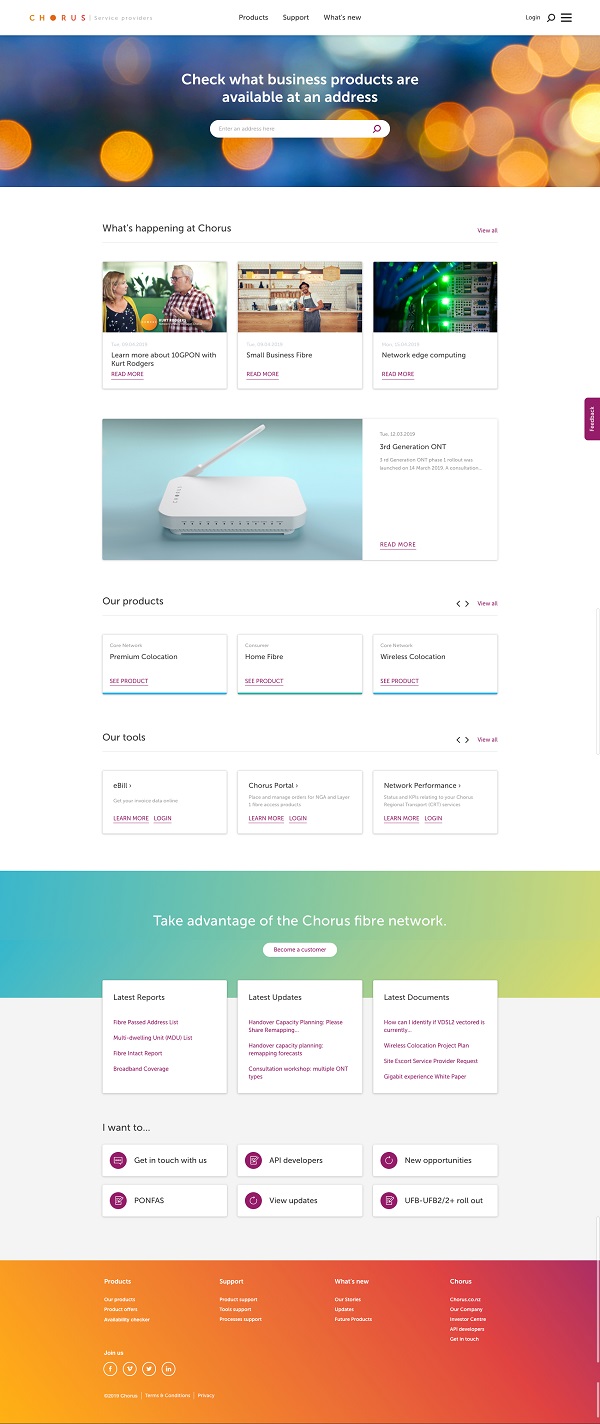 Following our recent announcement, we are delighted to confirm that the enhanced service provider website will be launched on Monday 13 May.
We have focussed on improving the user interface, quality and delivery of the information with simpler navigation and search, and allowing faster access and retrieval of information that is relevant to you.  
The main improvements are:
Easier access to product information, tools and support to help you understand our products, and assist with the sales process
Quicker to find the information or documents that you need thanks to a new search tool allowing users to search all content by keyword
Better visibility of Chorus news and new value-added information that you are interested in, such as future products, innovation, consumer insights and end-customers acquisition opportunities
A platform that will allows us to utilise a full range of multimedia
Optimised registration and subscription process  
What's next?
The cut-over to the new site will take place this weekend, starting on Saturday at 09.00am. During the update you may not be able to access some specific tools for short intervals:
https://sp.chorus.co.nz/network-performance
https://sp.chorus.co.nz/network-events
https://sp.chorus.co.nz/network-status
If you experience prolonged channel outage as a result of this update please follow standard BAU process for technology issues by calling 0800 ITCHORUS.  
Further details and any operational instructions during these outages will be provided to you via our regular outage notification communications.  
We understand you may have further questions about this planned outage, and your Service Delivery Managers are here to help.  
We apologise for any inconvenience that might be caused by updating our websites and sincerely thank you for your support and understanding which will assist in making the update process as smooth as possible.  
If you'd like us to take you through the improvements we've made, please get in touch with your Account Manager.